Last week we launched our ComMetrics blog checklist from CyTRAP Labs GmbH with:
Using social media metrics, social media marketing and social media monitoring tools these posts are intended for bloggers, Twitter or Facebook users (see also Social Media DOs and DON'Ts). Today's blog post addresses why PR and social media are joined at the hip, but not the same. You can still look forward to
Based on this and the preceding posts, we had a ComMetrics coffee break webinar on
Hoeren Sie den Podcast – listen to the podcast (unten Links von diesem Eintrag  – click on download to get the file – 13MB.
If you don't have a free login, get one now to participate – registration is at the top of the right-hand column, under Members, and completely free.
Read on to get more infos including videos and podcasts about the the third of this series of 10 blog posts.
What is public relations?
In short, public relations is the art of maintaining and promoting the company or brand with the intention of creating greater public awareness about, and trust in, the company's products and services.
This is generally accomplished by communicating with the media and business press in the hope of being included in editorial content mentioning and/or discussing the company and its products.
More specifically, while PR and social media are joined at the hip, they are by no means the same: PR just gets you noticed (and ultimately also increases sales). Until someone knows about you, how can they buy whatever you are offering?
In contrast, social media marketing is hard to control and spreading the message highly depends on a person's reputation as well as social networks spreading the message. In the PR context, information is shared with a selected group of people either by sending them a press release or product sample in the hopes that they will share their positive thoughts with a larger audience, such as newspaper readers reading a movie review.
Sharing information and insights using social media means having little, if any, control about what people do with the information, such as re-mixing music to make a new track. Sometimes social media stories – especially public relations disasters – might be picked up by more traditional media, thereby allowing the news to reach an audience beyond social networks such as Facebook.
Social media marketing can help an organization build good content to attract people or pull them in to your website or blog.
Public relations must take advantage of social media networks to spread its message further. However, keep in mind that social media marketing is
a) not just about sterile corporate communications,
b) used differently in each stage of the customer life-cycle, and
c) requires some critical skills, such as listening and responding politely and clearly to customer requests AND suggestions, as well as correcting mistakes identified.
The above steps are not generally part of a public relations campaign (i.e. one-way communication to a selected group of multipliers such as journalists). But for public relations to work with social media, it needs to incorporate these steps. In turn, people will be more likely to share this information with their friends and associates by, for instance, posting a link to on their Facebook wall.
Please make sure you don't miss any post in this series by registering your email with us to get the latest updates first in your inbox – you'll be glad you did.

Bottom line – public relations must incorporate engagement to work using social media
PR takes quite a while to hit your bottom line. If a TV ad is aired, you might expect your phones to be busy with customers right away, but that is unlikely when sports fans see your name in a stadium. Moreover, while you do have limited control, what the media does with your efforts later is highly uncertain.
Social media marketing seems even more of a long bet than PR and, most importantly, neither the individual nor the company has control over the channel. Negative news might develop into a communication crisis whereby wrongful or damaging information spreads through social networks like wildfire (see Nestlé versus Greenpeace – KitKat kills orangutans).
While it may be true that some negative PR is better than none, Toyota's massive recall exercise in early 2010 proves that even a good reputation can easily sustain severe damage if a problem is handled improperly.
For public relations to succeed with social media channels such as Twitter, Facebook or personal blogs, greater focus must be placed on engagement. Some companies can call a press conference in less than 48 hours and get people to fly around the world (see the Apple iPhone antenna-gate press conference); others like Symantec send out a press release and are certain that most major dailies will carry 50 words about it. But what may work for global brands fails miserably for smaller companies.
Take away: Social media offers smaller companies a good way to leverage their PR efforts. But it takes engagement, the right skill-set and time to use social media channels effectively. In turn, better gas mileage can be accomplished with your public relations efforts.
Also check out the videos, podcasts AND slides from the webinar (all in German AND English) below.
1st – shortened video of the German webinar – podcast/audiofile further below including iPod podcast via iTunes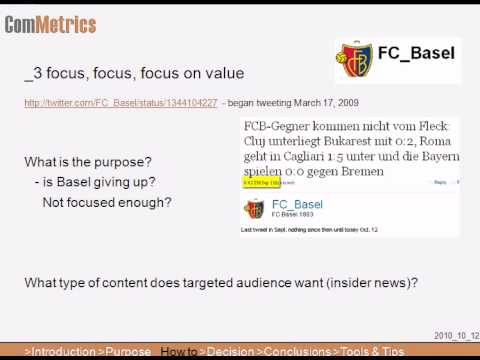 2nd – video of the English webinar – podcast/audiofile further below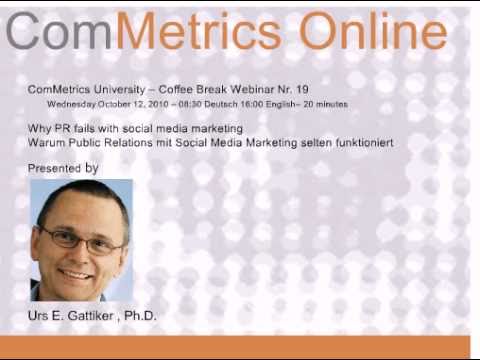 What is your take:
Is this stuff useful for you, please comment if you just watched a video, listened to a podcast or actually attended the webinar itself. We love to hear from you. Thank you for sharing your impression and ideas in a comment below.
Article source: Why PR fails with social media marketing


Can you leverage PR with Social Media Marketing? What are some common mistakes? people make?
[ 10:32 ]
Play Now
|
Play in Popup
|
Download
Wie nutze ich PR besser mit Social Media Marketing? Welche Fehler sollte man vermeiden?
[ 12:33 ]
Play Now
|
Play in Popup
|
Download